VOILES DE SAINT TROPEZ 2020: SEPTEMBER, 26TH TO OCTOBER, 9TH

For the 22nd edition, the Société Nautique de Saint-Tropez is launching a new formula: extended to two weeks – from September 26 to October 9, the mythical meeting of the most beautiful boats in the world is moving up the cursor to welcome the biggest classic and modern units which will now benefit from their own event.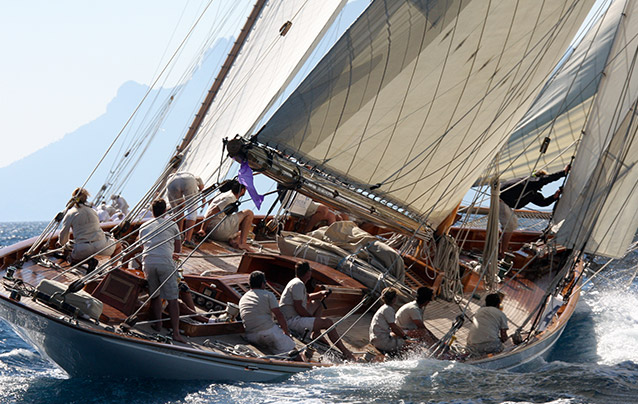 ON SHORE: A REDESIGNED FORMAT
"Taking into account the imposed security measures" specifies Pierre Roinson, President of the Société Nautique de Saint-Tropez and organiser of the Voiles "And in order to not create the conditions for a regrouping in a single place – neither for the public, nor for the participants – we have set up a protocol. The Race Village will only host the partners' stands and will be open to the public in groups of no more than 400 people, with wearing of masks being compulsory. The Race Village bar has been cancelled as well as the crew parade and boules competition. There will therefore be no activities specific to the organisation. The official clothing store, that of our partner North Sails, will be located at the entrance of the village with a direct access to the exterior. These provisions take us back to the Nioulargue years: boats, regattas and entertainments at the heart of the village." This configuration, validated by President Pierre Roinson and Director General, Tony Oller, thus opens the possibility for businesses and establishments in Saint-Tropez, obviously affected by the consequences of the pandemic, to take in hand the entertainment and other activities which create the festive spirit linked to the event.
PROVISIONAL 2020 PROGRAMM:
Week 1: The Voiles de Saint-Tropez
Saturday 26th and Sunday 27th September: registration for boats up to (approx.) 20 meters (except for certain classes)
Monday 28th September: racing for modern yachts
Tuesday 29, Wednesday 30 September, Friday 2, Saturday 3 October: racing for modern
Thursday 1st October: Challenge Day
Saturday 3rd October: prize giving (week 1)
Week 2: The Voiles Super Boats
Sunday 4th and Monday 5th October: big boat registration (Wally, IRCA, Maxi yachts, Grands Traditions, big Schooners)
Tuesday 6, Wednesday 7, Thursday 8, Friday 9: class racing
Friday 9th October: prize giving (week 2)
GET TO SAINT-TROPEZ WITH BIOMOTION