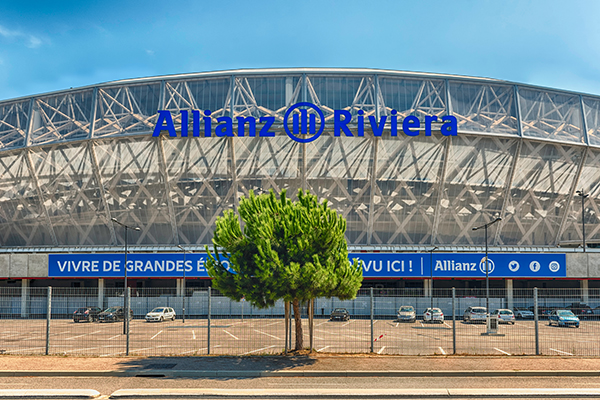 YOUR TRANSFER TO THE RUGBY WORLD CUP IN NICE

This year, the Rugby World Cup will be in Nice for four of the most interesting matchs, from September 16th to 24th, 2023.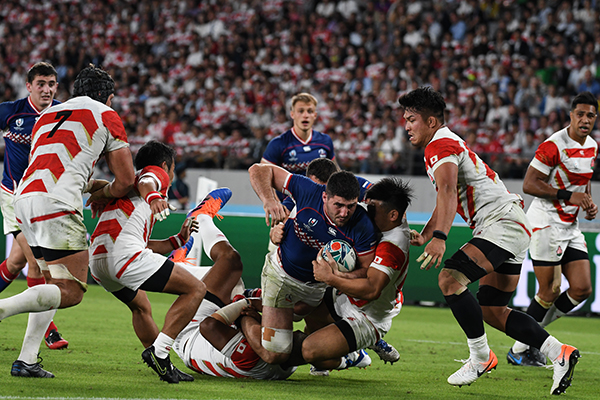 The Rugby World Cup in Nice promises to be a breathtaking sporting event, that will captivate rugby enthusiasts from all over the world. While the long-awaited event has not yet taken place, excitement is already at its top as preparations accelerate. Nice, with its sunny climate, picturesque beaches and warm atmosphere, offers an ideal setting to host the world-renowned competition. Fans are preparing to experience intense moments, support their favorite teams, and admire the talent of the world's brightest rugby players. The Rugby World Cup promises to be an unforgettable moment, where sport, camaraderie and passion will merge to create lasting memories.
Four games will be played at the Allianz Riviera in Nice, against :
Wales VS Portugal, 16th September 2023 at 5:45p.m ;
England VS Japan, 17th September 2023 at 9p.m ;
Italia VS Uruguay, 20th September 2023 at 5:45p.m ;
Scotland VS Tonga, 24th September 2023 at 5:45p.m.
The services offered by Biomotion to get to the Rugby World Cup in Nice
Biomotion offers a range of exceptional services to ensure rugby fans an exceptional travel experience during the Rugby World Cup in Nice. As a leading private VTC service, Biomotion provides a fleet of luxurious vehicles, with professional and experienced drivers, ensuring safe and quiet journeys. In addition, Biomotion offers flexible bookings to adapt to the schedules of the fans, whether for transfers from the airport, trips to the stadium or to explore the charms of Nice and its surroundings. Their commitment to customer satisfaction is reflected in meticulous attention to detail, impeccable punctuality and personalized service to meet all travel needs. Biomotion is thus positioned as the preferred choice for rugby enthusiasts looking to fully enjoy their stay at this major event.
Private, elegant and comfortable vehicles for your transfer on the French Riviera
Biomotion offers you a variety of hybrid VTCs, all equipped with air conditioning and comfortable seats. Our fleet of VTCs is extensive, offering you the perfect choice to meet your specific needs. If you are looking for a touch of luxury, we offer elegant limousines for exceptional transport. In addition, we have sedans for 4 peoples, as well as buses, minibuses and coaches. For larger groups, we also have buses and minibuses for convenient group transfers.
Whether you are attending a rugby match alone or in a group, our VTC services guarantee you easy and serene travel. Our VTC driver for the Rugby World Cup will be at your service to take you to the Allianz Riviera Stadium and bring you back to your hotel at a convenient time. You will be able to fully enjoy the event in complete peace of mind, benefiting from the professionalism and courtesy of our experienced drivers.
At Biomotion, our priority is to offer you an unparalleled transport experience, combining comfort, convenience and punctuality, so that you can fully enjoy your stay during the Rugby World Cup.
Where to stay to easily get to Rugby World Cup in Nice ?
For those who wish to attend rugby matches at the Allianz Riviera in Nice, there are a variety of accommodation option nearby to suit all tastes and budgets. The hotels located in Saint-Isidore, Saint-Laurent-du-Var and Nice Airport districts offer convenient proximity to the stadium, making it easy for fans to get to the games. Nice also has a range of hotels ranging from luxury beachfront hotels on the Promenade des Anglais to more affordable options in the city center. For a more authentic experience, visitors can also consider staying in more picturesque areas of Nice, such as Le Vieux Nice, and use Biomotion to travel to the Allianz Riviera. Regardless of the choice of accommodation, rugby fans will have the opportunity to enjoy the lovely atmosphere of Nice while being close to the Allianz Riviera to fully experience the excitement of the upcoming matches.
Biomotion se distingue par son service de transferts privés entièrement personnalisables. Lorsque vous optez pour notre service de VTC avec chauffeur, nous vous offrons une gamme d'options sur mesure pour garantir une expérience de transport exceptionnelle. Par exemple, vous pouvez choisir de réserver un transfert depuis l'aéroport de Nice jusqu'à votre hôtel, avec notre chauffeur vous attend à l'extérieur du terminal à votre arrivée. Nous pouvons également vous amener à l'aéroport à la fin de votre séjour, et le transport de vos bagages est inclus dans nos tarifs.
Biomotion, a tailor-made service for your travels
Booking is simple and is done through our user-friendly platform. Simply click on the "Book" button and provide the details of your flight or length of stay. Our fares are extremely competitive, being 20% cheaper than the fares of traditional taxis in France. You will know at the time of booking the total cost, which remains unchanged.
To ensure complete peace of mind during your business or personal trips to the Rugby World Cup, rely on Biomotion's top-of-the-line services. We put at your disposal a fleet of modern and comfortable VTCs, driven by experienced and courteous drivers, in order to offer you an incomparable transport experience, allowing you to fully enjoy your stay in Nice.
Contact us now in order to organise you stay in order to easily attend the Rugby World Cup.